November has been a busy month for me. I'm homeschooling my kids for now and I really hope we can put them back in private school again soon.
Even with this new busy schedule, I have been able to get a lot of writing done. The most difficult thing has been my driving desire to edit and revise as I go, which we're not suppose to do during Nanowrimo. I have more red lines that usual because I have been typing faster than I normally do. Leaving things spelled wrong just doesn't feel right. And the little green lines bother me even more. I've worked hard to improve my grammar and when I see a mistake with it, I want to fix it NOW. :)
But, I have to admit, Nanowrimo is a good thing. I've been more productive than I thought possible. Much of what I've written has been done early in the mornings or late at night when the rest of the house is asleep.
I've also spend some time lurking at the nanowrimo forums where I've learned some helpful hints and tips. I'll share two of my favorite tools here:
Realize your character's faces with
Ultimate Flash Face v0.42b
a free program. I could not believe how after just a few minutes of playing with this program, I was able to have a sketch like picture of two of my characters. I see their faces in my head, but it was amazing to see them on the screen.
Candy: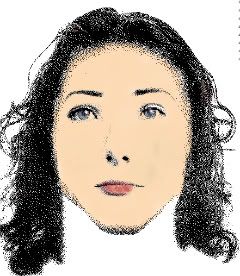 And
Grant: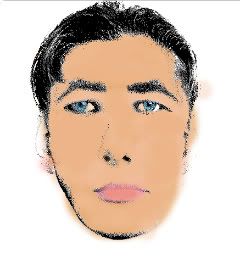 I added the color on my own, using photoshop elements.
And my other new favorite fun tool really helped me to get some words typed out when I was feeling a bit "blah" about writing. It's called
Dr. Wicked's Write or Die
and the punishments for not writing fast enough are funny, annoying or scary, depending on the settings you put before you write. It really works.